Entering an old barn is like stepping back in time. As your eyes adjust to the minimal light filtering through the cracks in the siding boards, the soaring space slowly reveals the warm honey brown of the massive wood posts and beams, the floor worn smooth from the passage of work boots and wagons.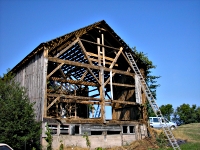 As the exterior is stripped away, the barn frame begins to reveal itself.
Look at the joinery, the way the beams were fitted together with mortise and tenon joints held tight with wooden pegs, and gain a sense of the skill and hard work involved to accomplish it.
It never ceases to amaze us how the barn carpenters took the raw material of a tree and shaped it into a usable component of a structure using just a broad axe and an adze. The character inherent in a hand-hewn beam speaks to us. It speaks of another era, a time when what you did with your hands counted, when craftsmanship and pride in your work was more the rule than the exception.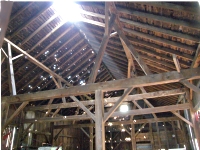 The geometry of an historic barn frame is beautiful, and the joinery speaks to the expertise of the original builders.
The timbers used in these barns were from the original growth of trees surrounding the farm, usually beech, hemlock, pine, oak or chestnut. The best timbers came from trees growing close together competing for sunlight. This competitive growth makes for superior quality lumber, straight and true and without structural defects, a far cry from today's hybridized framing lumber ready for harvest in twenty years.
Whether hewn by hand with an axe and adze from trees nearby, or drawn by a team of horses to a local water powered mill to be sawn into shape, the inherent character of the wood and the labor involved, from the shaping of timbers to the joinery, was enormous, but accomplished with skill to match.
At Beechwoods Barns, we're dedicated to preserving the "Architecture of Life" as lived on an eighteenth or nineteenth century farm, and sharing it with you.